Tagr is an application for Mac OS X that helps you organize your music collection. With Tagr you can easily edit information such as a song's artist, title, or album cover. Tagr also allows you to control the way your files are named. There is no more need for having other tools dictate that for you!
Various File Formats
Tagr supports standard MP3 (ID3 v1, v2.3, and v2.4), M4A/M4B (AAC and ALAC codecs), and FLAC files.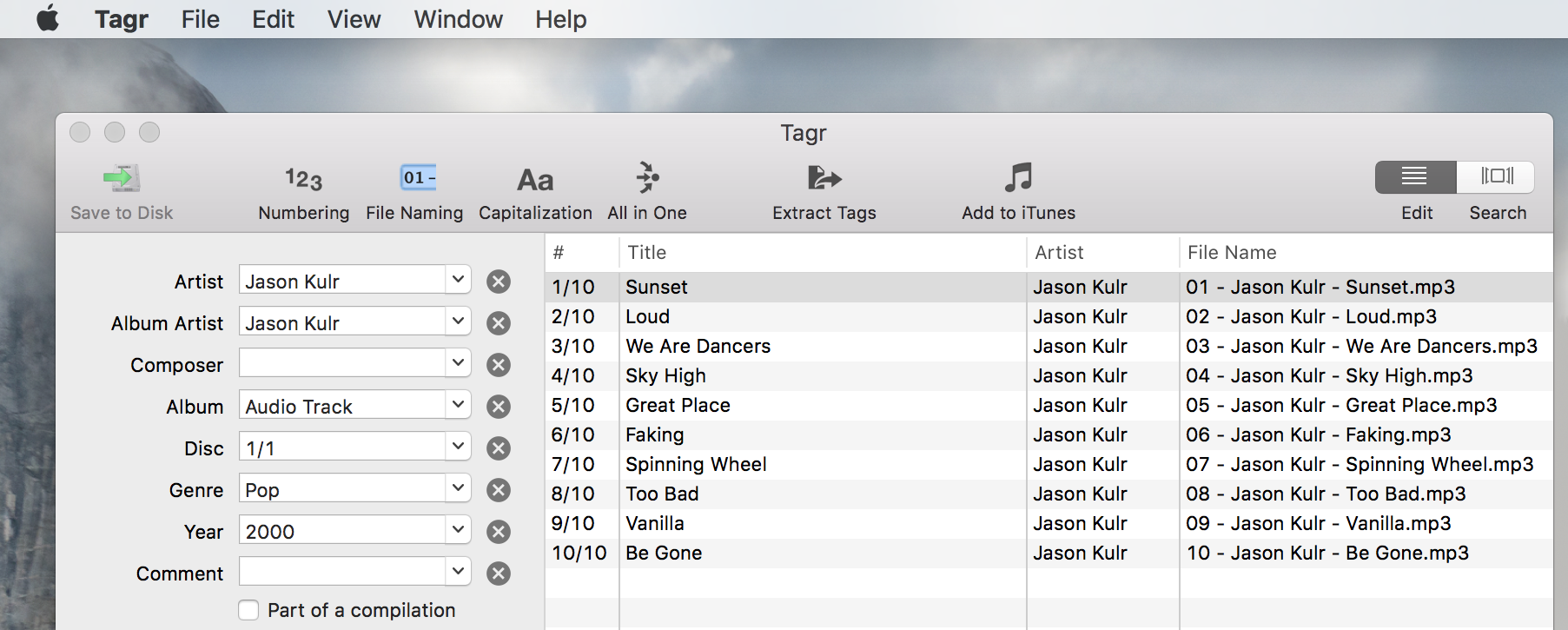 Modern User Interface
Tagr offers an intuitive user interface based on latest Mac OS technology that features everything you would expect from a decent Mac application, including time savers like drag and drop support, Quick Look, and more.

Embedded Artwork
One of the less known features of music files is that you can embed artwork directly into them. This way you will never lose your artwork again. Tagr allows you to do just that: simply drag your images onto a selection of songs, save to disk, and you are done!

Discogs Search
What is the best way to add missing tag information to a song if you don't want to enter it manually? Search for it! Use Tagr to query for any number of keywords and retrieve matching results from discogs.com, browse them in a cover viewer, and finally apply tags and artwork to a selection of songs.

Capitalization
Looking at your songs and seeing them all have a different case can be quite disturbing. Tagr supports uppercase, lowercase, and title case capitalization schemes (the latter following the New York Times Manual of Style).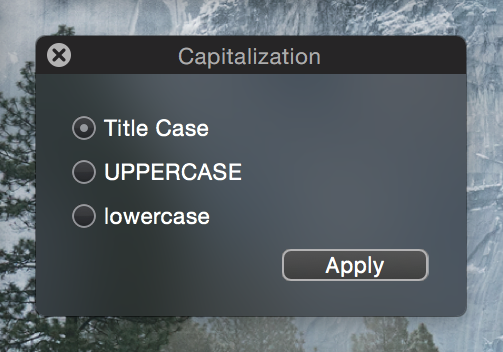 Numbering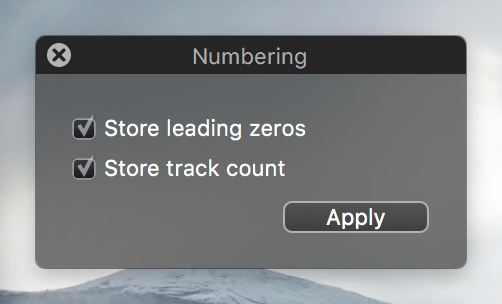 It can be tedious at times to manually number multiple songs, especially if you use track numbers to sort your files on the file system or in your favorite media player, or if you just like to store the number of songs in your album together with the track number. In Tagr, you can easily assign track numbers to songs by selecting from one of the available numbering patterns. Tagr will do the rest.
File Naming
If you manually organize the files on your file system, Tagr will be of great help by allowing you to choose from predefined or custom naming patterns that automatically derive the file name from other information such as the track number, artist, and/or title.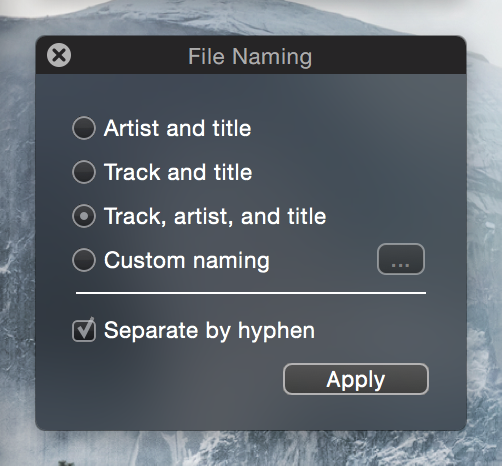 All-in-One
Once you are content with your numbering, capitalization, and file naming settings, you will want to employ them all throughout your editing process. Tagr saves you unnecessary clicks by offering a separate all-in-one feature that applies all these settings with one click.
Extract Tags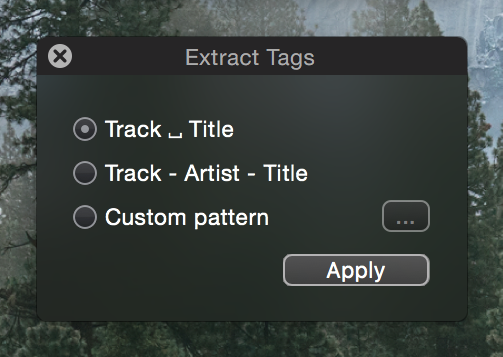 Sometimes, the only meaningful source of information is the file name itself: tags were not maintained and an online search yielded no results. Tagr has you covered. Simply define what tags to extract from the file name and let Tagr do the work.
Mass Operations
Many of the changes you do will be aimed at multiple files, be it the genre or release date that is missing, or just the comment that you want to get rid of. Tagr offers editing capabilities for applying changes to a selection of files in no time.
iTunes Integration
Benefit from a tight integration with iTunes. Drag files from iTunes into Tagr, edit them, and finally add the updates files back into iTunes with a single click.
Proven Technology
Tagr accesses your files through the proven TagLib library so you will never have to fear losing your files.